"Questions I have many, answers but a few. We're here to learn the spirit burns, to learn the greater truth." ~dolly parton
I love that song. I'm surprised it didn't win the Oscar last year (it was considered the lead contender among the nominees and was upset by "It's Hard Out Here For a Pimp," which shocked everyone).
On Friday I went to see
Freedom Writers
. It's about a first-year high school English teacher, which is what I'll be in about 8 months, so it was a little frightening because it hit so close to home. I hope my job isn't as challenging as Hilary Swank's character's. And I hope I can be half as good a teacher as she was. I really enjoyed the film.
On Saturday night I went into the city and Nic and I went to see
Mook
play at a bar downtown. They weren't bad.
Paul Dano
(you probably know him as Dwayne from
Little Miss Sunshine
) is the lead singer and guitarist. Here's a really bad picture that I took: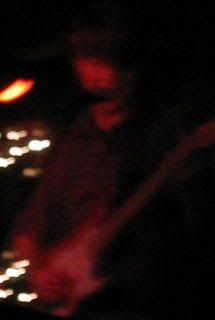 I stayed at Nic's apartment that night. Then on Sunday we went to see The Little Dog Laughed, a hilarious Broadway play. It was sooo good. It's about an actor trying to navigate the movie business and live a happy life, and his crazy agent doesn't help him with the latter all that much. The cast consists of 4 actors, all of whom are incredibly talented. Julie White will probably win the Tony this year for her performance. Ari Graynor was absolutely hilarious, and
Tom Everett Scott
was also great. I'm a huge fan of the movie
That Thing You Do!,
and he's the star of that, so it was cool to see him perform live. And I sure saw a whole lotta him. There was some full frontal nudity going on. Anyway, here's me and Tom Everett Scott: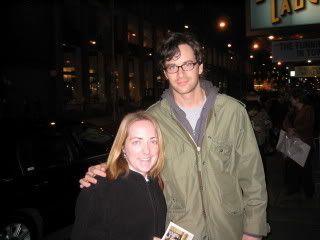 I read
Wintersmith
, which was great. I was sad when I finished it, though, because it's the last book in the Tiffany Aching series and I want to know what happens to her. Of course I can imagine for myself, which is fun to do, but that doesn't seem as real as reading Pratchett's ideas.
I need to start studying for the Praxis II, which I'm taking on Saturday. I don't know how to study for it, though. Basically you have to know the material or else you're screwed; it's not exactly something that you can cram for, it's something that you've been preparing for throughout your entire education.