"Nothing falls like London rain, nothing heals me like you do." ~heather nova
I haven't blogged for a really, really long time. So I have tons to write about. And I don't know where to start. Sometime I need to write about the Arcade Fire concert that I went to the week before graduation, because it was one of the best experiences of my life. I can't even tell you how fabulous it was. Chris Martin called them the greatest band in history (greatest band in history; if you stop to think about it, that's quite a radical statement) and I'm well on my way to agreeing with him. But I think I'll go back to that concert later. It deserves its own post.
Then there's graduation. I'm not sure what to say about that. It was a busy weekend; my parents, brother, and four grandparents were there and there were so many events and things to coordinate with all those people. I was ready to graduate, but it was bittersweet. The day after graduation my immediate family and I took some pictures at the lake and I was reminded of how much I'll miss not only the people at Richmond but the campus as well.
The week after graduation my family and I left on our final family vacation before I enter the "real world" (eek). We went to London, Edinburgh, and Dublin. My family's vacations are always whirlwinds. We try to cram as much as possible into whatever time we have. There is no time for rest on one of our vacations. We leave the hotel in the morning sometime before 9:00am and never return until after 9:00pm. So, after 10 days of that, I'm pretty tired right now. But it was great. Here's what I remember of our itinerary:
We flew to London Thursday night and arrived on Friday morning. It was an overnight flight and I didn't sleep at all. We had no time to rest once we got there, though; we would have been wasting valuable sightseeing time. So on Friday we did the Tower of London. It was actually very cool, and it took a long time. By the time we went to bed I had been up for about 30 hours and was exhausted.
Tower of London: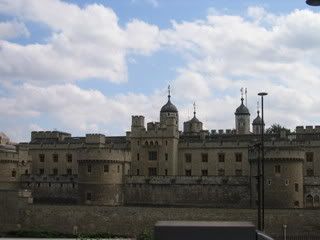 The next day, Saturday, we went to Notting Hill to wander around the market that's there on Saturdays. If you've seen the movie
Notting Hill
you'll know what it looks like. Portabello Road is full of stalls selling a wide assortment of stuff. It stretches for at least a mile; it's amazing. I loved walking around there. I can't remember what we did for the rest of the day. The days are running together in my head, so I'll just write about everything that we did in London.
We went to
Herrod's
. At first it seems surprising that a department store is one of the biggest tourist attractions in London, but once you see it you realize why. First of all, it's absolutely huge. And it's beautifully decorated. We had lunch at Harrod's Famous Deli (I wonder when it added 'famous' to it's title), which was insanely expensive but very tasty.
We rode the London Eye. It provided a great view of the city.
The London Eye: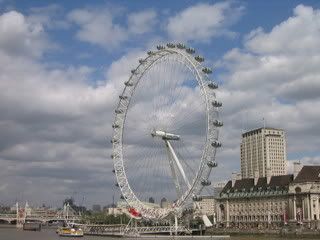 View of Parliament from the London Eye: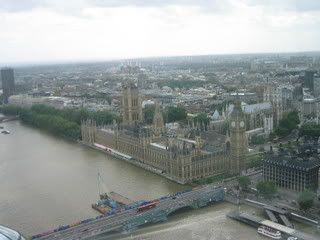 We toured Westminster Abbey. It's mindboggling how many famous people are buried there. It houses many English kings' bodies as well as quite a few writers (including Geoffrey Chaucer, Robert Browning, Charles Dickens, Thomas Hardy, Rudyard Kipling, Alfred Lord Tennyson, and Edmund Spenser). It's just amazing to stand there and think about how many bodies of influential people are surrounding you.
Westminster Abbey: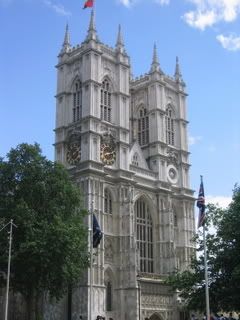 We saw a changing of the guard at Buckingham Palace, although it was hard to see because it was so crowded.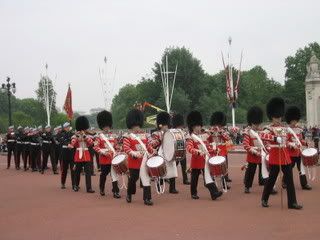 I know we visited more historical sites in London but I can't think of them right now. Ooh, wait, I just thought of a couple of random things. We went to Abbey Road and crossed the famous crosswalk (from the cover of the Beatles' album). Here's me crossing it: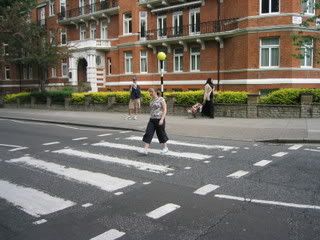 And U2 and Green Day crossing it: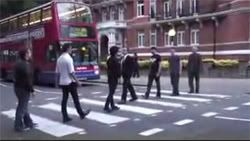 We also saw Platform 9 3/4 (from
Harry Potter
) at the King's Cross Station! There was even half of a cart sticking out of the wall:
And we saw the Peter Pan statue in Hyde Park, donated by J.M. Barrie and located where he first met the boy who inspired Peter Pan (I just noticed there's something flying in front of me):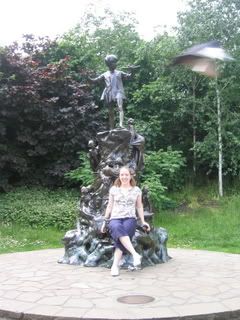 My favorite part about London, though, was the plays. If you don't know already, I am a theater freak. I love plays. I'm obsessed with Broadway. So getting to see a couple of West End productions was a highlight of the trip for me.
On Saturday we saw Edward Albee's
The Lady from Dubuque
. We were in the front row. Dame Judi Dench was sitting a few rows behind us. Dame Maggie Smith starred in the play, and I adore her. I've adored her ever since I saw
Hook
for the first time. She was hilarious. She's quite a character. It was pretty amazing that we saw two Dames in one night.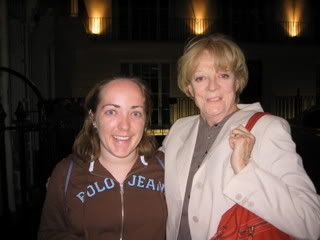 On Sunday we saw
Othello

at Shakespeare's Globe Theater
. The Globe Theater is quite impressive, and the production of
Othello
was very well done. It was directed by Wilson Milam, and I'm a huge fan of his. I've met him and he's a really nice guy, and he's also brilliant. Tim McInnerny played Iago and he gave a great performance. At first I didn't recognize him; he looks different than anything else I've seen him in. It's a different kind of part for him. Othello is definitely one of my favorite plays by Shakespeare and I was so glad to get to see it at the Globe.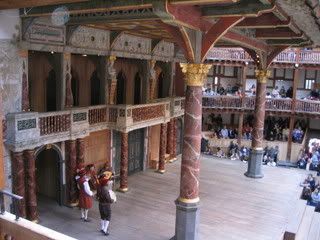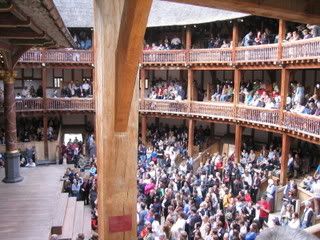 On Monday I waited in line at TKTS in the morning and got a ticket to
Equus
. I ended up third row center; it was a perfect seat. Daniel Radcliffe (Harry Potter himself) really, really impressed me. He displayed so much more depth than I've seen from him in the
Harry Potter
movies. He looked so much older, too. He's one of those actors who is so tied to a specific character that you wonder if he'll ever be able to distance himself from that character and move on, but his performance in
Equus
proved to me that he's talented enough to transform himself into other characters and do more. For about 10 minutes he walked around onstage completely naked, which takes balls. I had a pretty good view of him. :-) Richard Griffiths, fresh off his Tony-winning run in
The History Boys
, was also wonderful. The stage door was so crowded that I couldn't get a picture with Mr. Radcliffe, but I got a picture of him.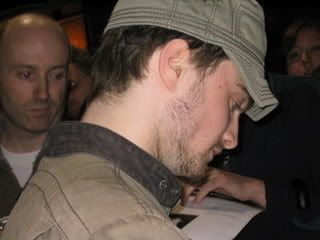 After our four days in London we took a train to Edinburgh. It was a beautiful city, although it was my least favorite stop on our trip (I did enjoy it, just not as much as the other cities). We saw lots of castles.
Finally, we flew to Dublin. I was in charge of planning Dublin; we went there because of me. I love Ireland. I'm fascinated by it. In Dublin I dragged my family to lots of U2 sites. I felt at home in Dublin. It's one of the few places in the world I think I could live. I'm dragging now; I don't feel like writing any more, so I'll write more about Dublin and I'll post pictures of Scotland and Ireland later. This is long enough for now. Today I'm off to the Bronx for a career fair to meet with principals.