"In New York, freedom looks like too many choices. In New York, I found a friend to drown out the other voices. Voices on the cell phone, voices from home, voices of the hard sell, voices down the stairwell. In New York, just got a place in New York." ~u2
Yesterday was one of the best days ever. I'm still reeling. So here are the highlights:
1. I went to MTV to visit my old office. I spent about an hour and a half hanging out with some of my favorite people in the world. I laughed harder than I have in a long time. It was wonderful. While I was there, I completely forgot what had been making me nervous for the past few days (see #2).
2. I had an interview with the NYC Dept. of Ed. for a teaching position. After the interview (which went okay, even though there were so many things I thought of afterwards that I should have said), the interviewer offered me a contract. And I signed it. So now I am officially employed by the NYC Dept. of Ed. and are guaranteed a teaching position for the 2007-2008 school year. I have a job. A real job. A career. And I know that it is what I really want to do. It's what I've wanted to do since forever. I still can't wrap my mind around the fact that I will be an actual teacher in 8 months, in the only place in the world I want to be. I am beyond happy. I don't have a specific placement yet; I have a Recruitment Manager and a Case Worker with whom I'll be collaborating to find the position for me. And I have a whole lotta tests to take and papers to fill out to get certified in New York. But I don't care, because I have a job.
3. You're probably wondering how this day could have gotten any better, but it did. I went to see
The Vertical Hour
on Broadway. It was a very good, thought-provoking play about politics written by David Hare. The acting was great. Bill Nighy was the stand-out. He's so good at using his whole body to act, and his facial expressions are priceless. Here's Bill Nighy in a scene from
Love Actually
, one of my favorite movies. I love him in that film. Check out his ridiculous outfit:
Julianne Moore was also wonderful. I have believed for a long time (and still do) that she is the most talented actress working today. Someone needs to give that woman an Oscar already (she's been nominated 4 times).
What really topped off the whole evening, though, was the fact that both actors were so incredibly friendly and gracious. I love it when famous, talented people are nice, because they don't have to be and often they aren't. Here's my pics: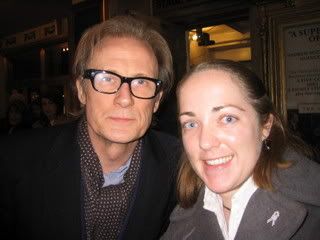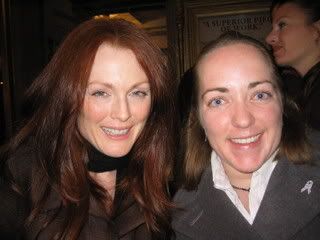 So it was a good day.